Title: Hoodoos
Year: 2019
Media: Hand-tinted "seaglass" resin on COR-TEN steel
Currently on view through 2020
Sculpture Walk Springfield; Springfield, MO

Art on the Streets; Colorado Springs, CO
Photo credit: Brandon Alms Photography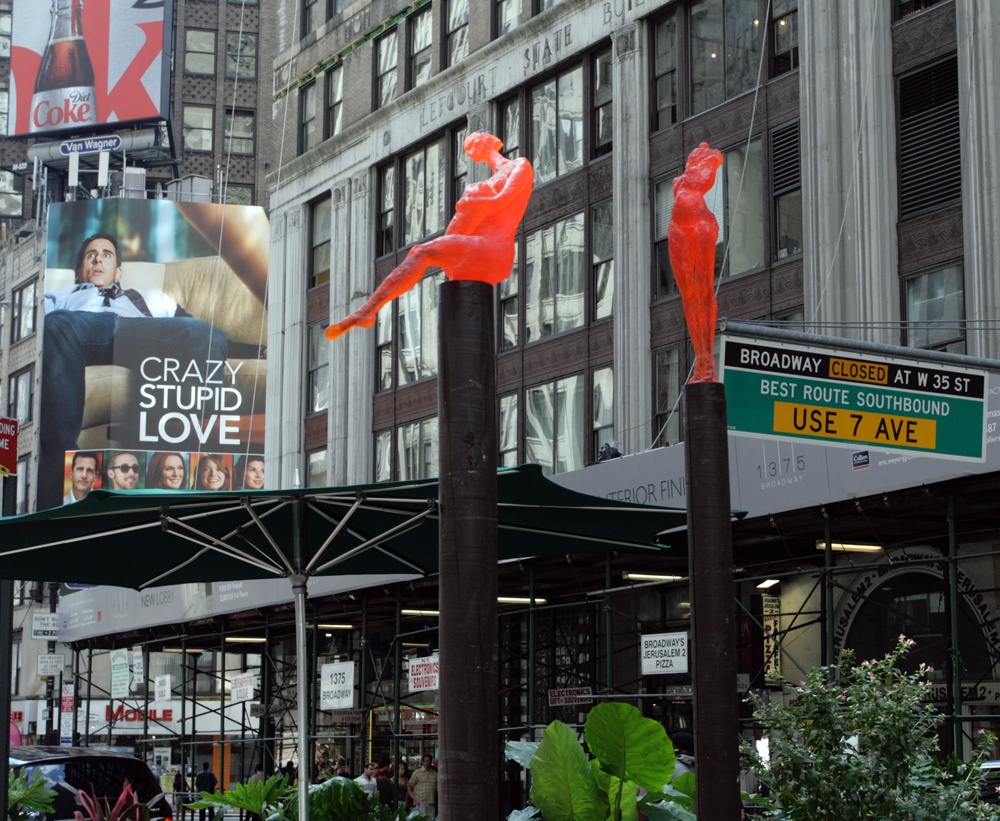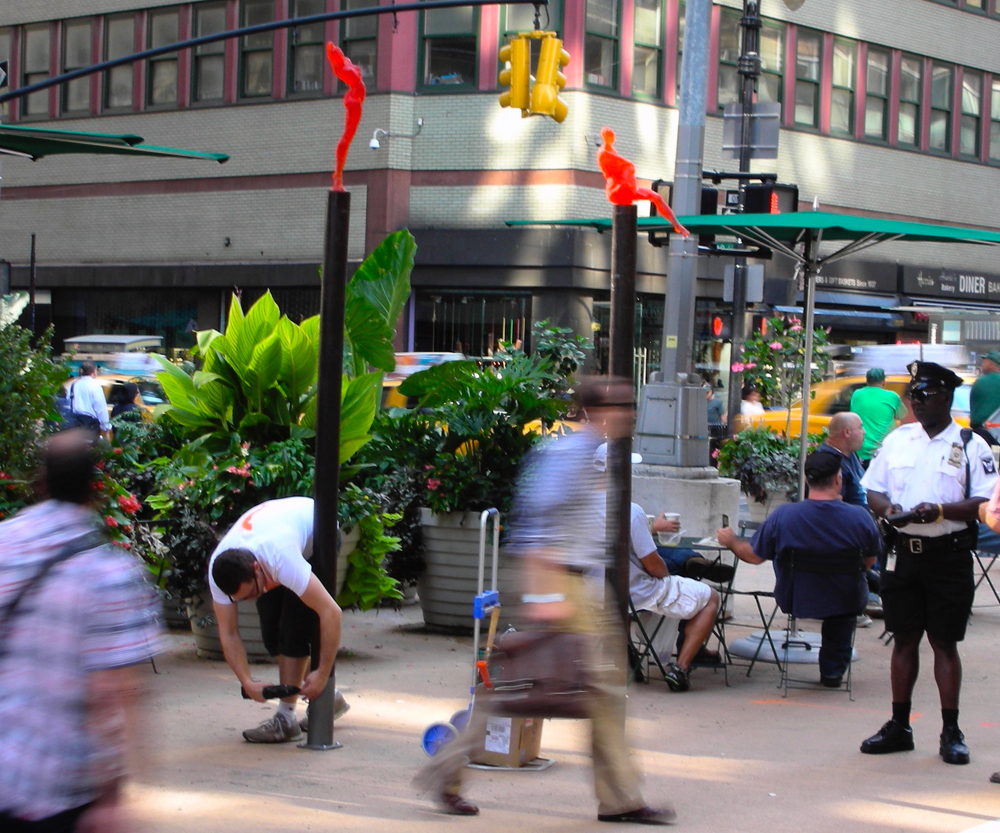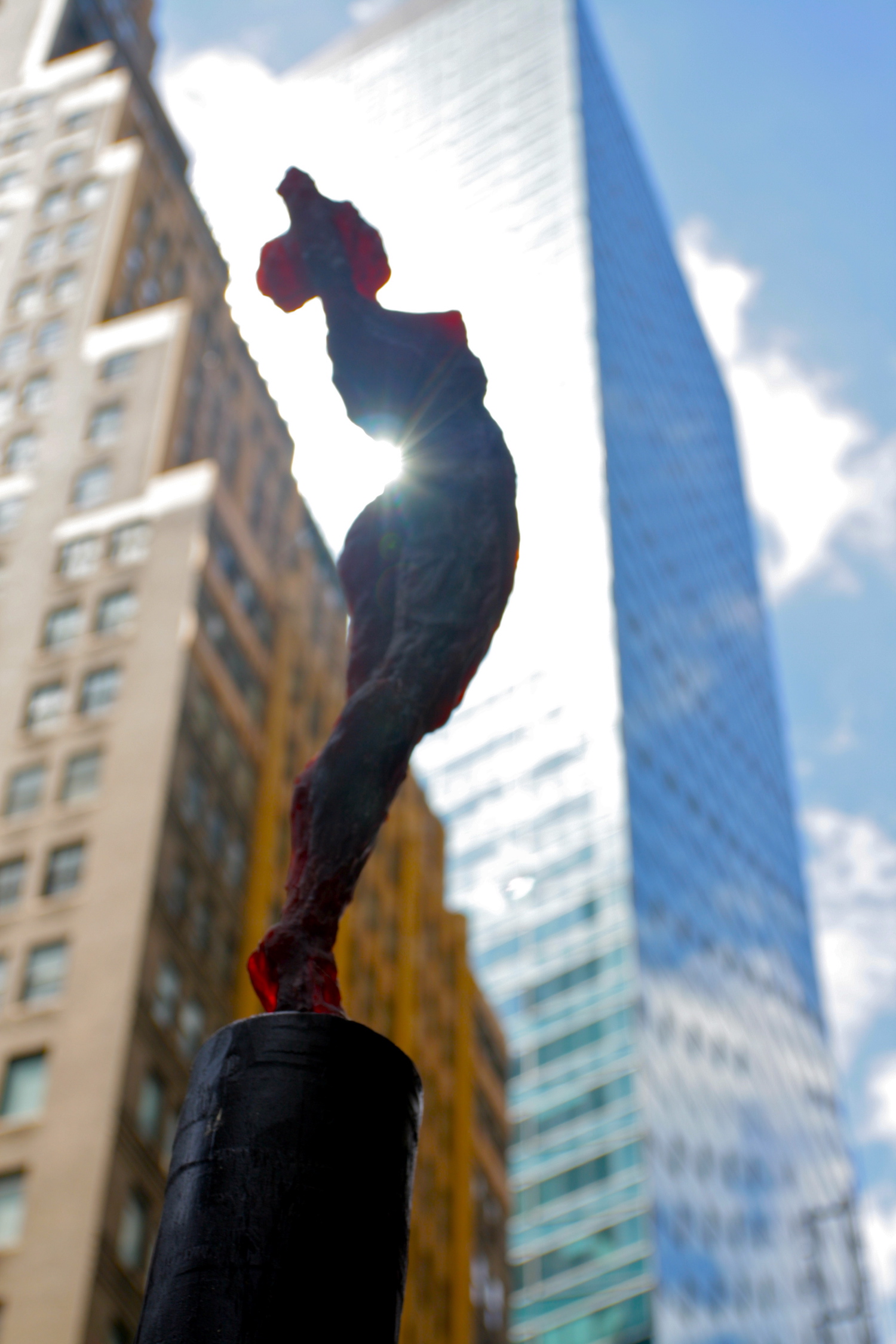 Title: Eventide Rhythm Public Art Installations (Formerly known as "Pilings Project Sculptures")
Year: 2010-2016
Media: Hand-tinted cast resin, wood, steel
Locations: The Broadway Pedestrian Plazas b/t Times Square & Herald Square; New York, NY / LA LIVE in Nokia Plaza; Los Angeles, CA / Rye Arts Center; Rye, NY / Rye Town park; Rye, NY
Commissioned to create and install thirty 10-foot tall Pilings Project sculptures along five city blocks on Broadway in New York City by the Fashion Center Business Improvement District and NYC-DOT.
Selected to be the installation artists for the LA debut of New York's Affordable Art Fair, we crated and shipped fifteen of our 10-foot tall resin, wood & steel sculptures to Nokia Plaza and worked directly with the LA LIVE and Marriott engineers to install them around the plaza. The installation drew attention and focus to the art fair and accompanying events.
In conjunction with the "Beyond Rodin: The Human Form Unleashed" contemporary art exhibition at the Rye Arts Center, we installed fifteen of the 10-foot tall sculptures along the town's main shopping district on Purchase Street as well as on the lawn of the Arts Center, coordinating and working together with city engineering and Public Works Department.
Title: Satellite
Year: 2015
Media: resin, copper, water
Size: small duck pond
Location: Rye Town Park
Asked to create a site-specific floating piece for the duck pond in Rye Town Park, we sculpted and cast the 10 individual floating, hollow cast resin parts of Satellite in only 2 months. It consists of a near life-size figure perched on top of the larger of 9 abstract floating elements, wrangling one of the smaller elements with a glinting copper pole. The colorful resin casts luminous reflections across the surface of the pond while glowing in the sunlight. The organic shapes are reminiscent of lily pads or perhaps asteroids as they gently revolve around their keeper.
Team: Joan Benefiel + Jeremy Leichman of Figuration Studio
Title: Helmsley Building lobby wall relief sculptures
Year: 2010
Media: Bronze
Size: 6-foot tall x 30 linear feet
Location: Park Avenue; New York, NY

A pair of massive bronze bas-relief lobby wall sculptures comprised of 80 individual panels that flank the elevator banks in the historic building lobby. Joan hand sculpted and carved the 1/2" deep relief sculptures from wood, wax and clay. Designed by Beyer Blinder Belle, the images were first painted by Chris Ludlow and produced by Excalibur Bronze Sculpture Foundry. In addition to sculpting, Joan assisted in overseeing the foundry process performed by Excalibur for the mold-making and lost wax bronze casting through installation. Approved by the NYC Landmarks Preservation Commission.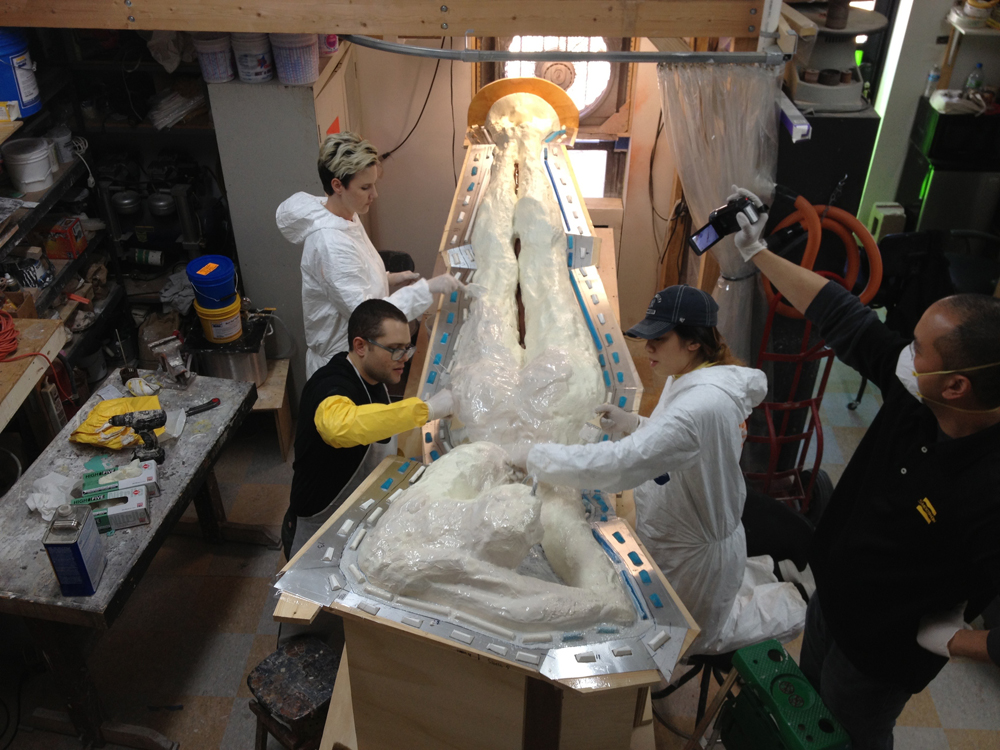 Title: Breath (formerly known as "Reach")
Year: 2014
Media: Hand tinted and cast resin, stainless steel, wood
Size: 11-feet tall
Locations: Pikes Peak Community College, downtown Campus, Colorado Springs; Art on the Streets, Colorado Springs, CO; Sculpture Walk Springfield, MO; Nova's Ark Sculpture Park; East Hampton, NY / Distrikt Hotel, 40th Street in Midtown Manhattan; New York, NY / Rye Town Park; Rye, NY
Permanently installed in the courtyard of the Creative Commons at the Pikes Peak Community College Downtown Studio Campus, acquired November 2017, with generous support from the PPCC Foundation as part of the Marie Walsh Sharpe Creative Commons Project.
Previously Breathe was featured in the traffic circle on Tejon Street in downtown Colorado Springs for the Art on the Streets exhibition, beautifully placed with Pikes Peak in the background. Last year it was the signature piece of the Inaugural Sculpture Walk Springfield, MO public art exhibition, on the balcony of The Springfield Brewery through May 2017. Premiered at Art Hamptons Sculpture Park with Island Weiss Gallery / Exhibited in front of the Distrikt Hotel in midtown Manhattan, co-sponsored by the hotel and the NYC Garment District Art Alliance / Beacon of the multi-sculpture installation at Rye Town Park overlooking the Long Island Sound in 2015.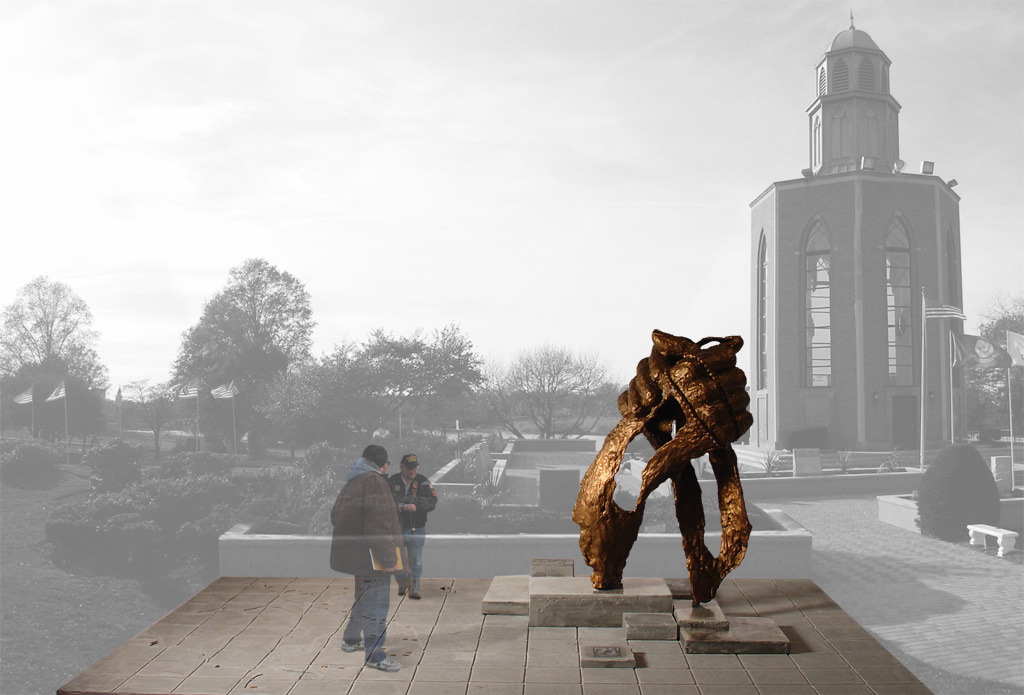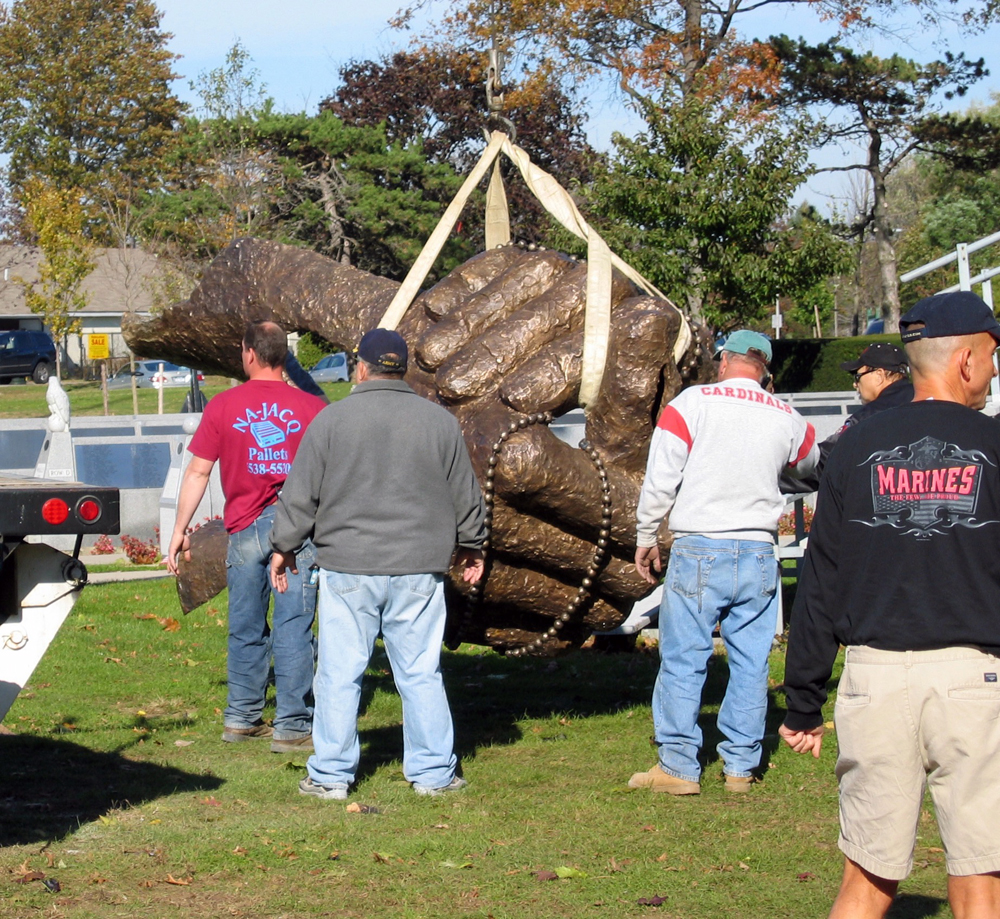 Title: The Nassau County Vietnam Veterans War Monument Commission
Year: 2005
Media: Cast bronze, laser engraved polished stacked granite, bronze inlaid cast cement
Size: 14-feet tall x 15-feet wide x 15-feet deep
Location: Eisenhower State Park, Long Island, NY
Team: Shannon Diamondstein and Hui Min Chan, Architects / Joan Benefiel, Sculptor

Unique Veteran's memorial sculpture symbolizing the powerful bond between all those who
served. Two 12-foot tall soldier's hands bound together as one with dog tag chain and a set of
anonymous tags hang in the hollow space between the hands to chime gently in the wind. Base
comprised of stacked and engraved polished granite and cast cement map with bronze inlays
marking battle locations.
Title: Examen; St. Ignatius of Loyola Memorial Sculpture Commission
Year: 2011
Media: Bronze, granite
Size: 7-feet high x 5-feet wide x 9-feet long
Location: Fairfield University; CT

In our winning design for this national competition, the sculpture depicts St. Ignatius intently engaged in the Jesuit practice called "Examen", which means to scrutinize oneself and the good and evil in one's conscience. The life-like realistic portraits of the Saint are light and dark to represent good and evil as they dramatically face off with each other.
Team: Joan Benefiel + Jeremy Leichman of Figuration Studio